Constructed of sturdy twisted material
Thick silver colored cord
68" in length from end to end
Large 4" bulb tassels at each end
Secure knotted ends
This Silver College and High School Graduation Honor Cord is the ideal item for honor recognition for your college graduation



Silver Graduation Cords


Silver Graduation Cords are a great approach to flaunt your accomplishment or school soul on graduation day. Our standard length silver honor cords are produced using the best materials, and make sure to please. A portion of our inter weaved graduation cords also highlight the color silver, like the red cords and silver graduation cords. This cords look extraordinary without help from anyone else, integrated or twofold attached with some other color. If you are searching for silver decorations, we additionally have Green and Silver and Black and Silver graduation tufts, which both element silver date drops of your desired graduation year. These can be worn with your cap and outfit to your commencement function alongside your silver honors cord. Silver could likewise be utilized as a substitute for platinum cords.

Many honor social orders utilize Silver in their honor cords. Silver is one of only a handful few colors that we offer that starts not from the color wheel but rather from a metal typically found in the earth. Silver is dark yet is made to look like cleaned Silver. The silver graduation cords that we offer don't have any sort of bogus metallic sparkle (they don't look like glitter) but instead have a characteristic shine from the nature of the texture used to make the graduation cord.
You've just added this product to the cart:
Silver Graduation Honor Cord - High School Honor Cords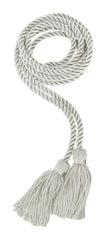 View cart
Continue Shopping
Size Chart Table
Size
39
42
45
45XL
48
48XL
51
54
54XL
57
57XL
60
63
63XL
66
Height
4'6" - 4'8"
4'9" - 4'11"
5'0" - 5'2"
5'0" - 5'2"
5'3" - 5'5"
5'3" - 5'5"
5'6" - 5'8"
5'9" - 5'11"
5'9" - 5'11"
6'0" - 6'2"
6'0" - 6'2"
6'3" - 6'5"
6'6" - 6'8"
6'6" - 6'8"
6'9" - 6'11"
Height(cm)
137 - 142 cm
145 - 150 cm
152 - 157 cm
152 - 157 cm
160 - 165 cm
160 - 165 cm
168 - 173 cm
175 - 180 cm
175 - 180 cm
183 - 188 cm
183 - 188 cm
191 - 196 cm
198 - 203 cm
198 - 203 cm
206 - 211 cm
Weight Below
180lbs
180lbs
180lbs
180lbs
180lbs
180lbs
270lbs
270lbs
270lbs
270lbs
270lbs
330lbs
330lbs
330lbs
330lbs