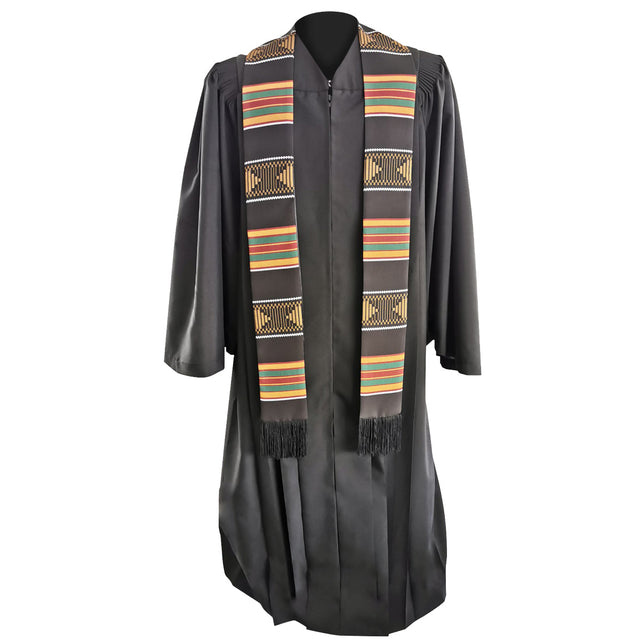 List price: $18.36 As low as: $11.02
Add to Cart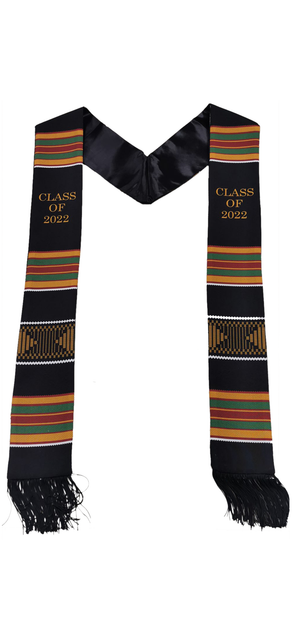 Out of Stock
Kente Graduation Stole/Sash Class of 2022
List price: $18.36 As low as: $11.02
Add to Cart
Kente Stoles
What are Kente Stoles?
Thousands of college students are expected to be in their Kente stoles during the spring annual college ritual as they receive their respective degrees awards. The Kente stoles enable students to identify themselves with a distinctive African symbol that, in turn, helps these students to retain their African wisdom even after experiencing foreign knowledge in the diaspora.
History of Kente Stoles

The origin of Kente stoles can be traced back to the Bonwire village in Ghana, which is inhibited by the Asante tribe. The Asante tribe believed that a super trickster spider, the Ananse composed an intricate web that had the jungle details, which motivated Nana Ameyaw and Nana Koragu to copy this design marking the commencement of Kente weaving process. Some historical documentation has indicated that the Ewe and Akan people had textile production involving Kente stoles by early 1000 B.C, which up to date has been improved with vibrant, bold colors. Kente stoles cloth has been used in royal ritual rites such as commissioned by chief Akenten. Men were supposed to wrap their Kente stoles over their shoulders while women were required to wear their two Kente stoles pieces, one as a shawl and the other as an ankle-length dress.
An aesthetically designed Kente stole has various meanings that can communicate much about African wisdom. Each color on the Kente stores symbolizes something fundamental in African culture. The black symbolize of ancestral unison with African ancestors or spiritual awareness, gold symbolizes an African bond status, Yellow= fertility, green= renewal, blue signifying pure spirit, and red = passion.

Assembling a single Kente cloth involves sewing together various long strips each about 7"-10" wide with each band composing panels of interchanging designs. Kente design had a specific meaning according to the weaver intentions such as some indicated the sexuality, clan, and social status, for instance, t "AberewaBene" translated to "a wise old man" was a symbol of maturity and wisdom as it.
In 1958, Kente stoles were embraced by most Africa-Americas prominent leaders, especially after the former Ghana prime minister, Kwame Nkrumah, met President Eisenhower in his Kente stoles in the White House. The Kente stoles gained popularity among the Black Americans as they associated it with the African Decolonization Movement that advocated for Africa heritage and dignity. The Dashiki, which an elongated tunic-type shirt, become the most popular Kente garment in the United States as early as the 1970's.
The West Chester University of Pennsylvania marks another vital milestone about the rich history of Kente stoles, which was used to honor and appreciate the extraordinary personal struggle that most African native students went through in college to acquire their baccalaureate degree. Kente stoles are seen as a sign of successful matriculation by most Black students as they believe Kente stoles have the power to transform to a wise African man by uniting them with the wisdom from their African ancestors.

Congratulations to all Black students in Kente stoles as you celebrating your successful matriculation today. Africa needs your wisdom and knowledge today, most than any other time in history. As you cover your shoulders in Kente stole, let it be a clear testimony of the great ancient African wisdom and great hope and a dream come true of the African people. Today Kente stoles symbolize African pride and knowledge with Asante's community stylizing their ethics and values using their Kente fashions.