Constructed of sturdy twisted material
Thick royal blue colored cord
68" in length from end to end
Large 4" bulb tassels at each end
Secure knotted ends
This Royal Blue College and High School Graduation Honor Cord is the ideal item for honor recognition for your college graduation



Royal Blue Graduation Cords for School Honors

Royal blue honor cords bring a feeling of earnestness and supervenes to any graduation function. Our royal blue graduation ropes are produced using all manufactured material and are adequately solid to move affectionate recollections for your alumni for years to come. With royal blue graduation ropes as a unique badge of academic accomplishment, your alumni will feel the adventure of the unknown future as they make their next stride in the scholarly world and recall the honor of their prosperity as they think back on their graduation day.

Royal blue graduation cords address specific academic achievement and accomplishment in virtually every region of study. Even though the royal blue honor cord is here and there used to mean triumph in authority, local area administration, or considering the sociology, it is regularly utilized as a more broad affirmation of unrivaled expertise in the scholarly world and used by a few academic honor social orders like the ASGA. Royal blue graduation cords are a significant badge of a long-standing custom of academic achievement. Royal blue is even utilized by some worldwide and public clubs, similar to the Distributive Education Clubs of America and the FFA. By giving your alumni the royal blue honor cord, you not just perceive their tremendous ability in their picked field of study, yet you likewise urge them to proceed in the educational practice.

You may likewise consider requesting one of our meshed cords that consolidates royal blue, similar to our devoted, red, white, and blue honor cords, to provide for understudies as military honor cords.

Graduation cords in royal blue look exceptionally proficient against the exemplary black graduation robes or fresh White. You can take a stab at coordinating the royal blue graduation ropes with any of our other shaded cords, too, to do an uncommon honor for understudies who are exceptionally skilled or to permit your alumni to communicate their school soul by wearing the shades of their institute of matriculation on graduation day. Incorporate our royal blue graduation cords as a component of your beginning function to bring an extraordinary sensation of custom, honor, and expectation for the fate of your alumni.
You've just added this product to the cart:
Royal Blue Honor Cord - High School Graduation Cords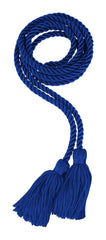 View cart
Continue Shopping
Size Chart Table
Size
39
42
45
45XL
48
48XL
51
54
54XL
57
57XL
60
63
63XL
66
Height
4'6" - 4'8"
4'9" - 4'11"
5'0" - 5'2"
5'0" - 5'2"
5'3" - 5'5"
5'3" - 5'5"
5'6" - 5'8"
5'9" - 5'11"
5'9" - 5'11"
6'0" - 6'2"
6'0" - 6'2"
6'3" - 6'5"
6'6" - 6'8"
6'6" - 6'8"
6'9" - 6'11"
Height(cm)
137 - 142 cm
145 - 150 cm
152 - 157 cm
152 - 157 cm
160 - 165 cm
160 - 165 cm
168 - 173 cm
175 - 180 cm
175 - 180 cm
183 - 188 cm
183 - 188 cm
191 - 196 cm
198 - 203 cm
198 - 203 cm
206 - 211 cm
Weight Below
180lbs
180lbs
180lbs
180lbs
180lbs
180lbs
270lbs
270lbs
270lbs
270lbs
270lbs
330lbs
330lbs
330lbs
330lbs