Constructed of sturdy twisted material
Thick red colored cord
68" in length from end to end
Large 4" bulb tassels at each end
Secure knotted ends
This Red College and High School Graduation Honor Cord is the ideal item for honor recognition for your college graduation



Red Graduation Cords

Red Graduation Cords from Stoles.com are extraordinarily splendid and lively in color. Red honor cords are regularly twisted with, or attached twofold with, other graduation cord colors to help change the person. The red meshed cords that we convey in stock are: red with black; black with red; red with Silver; red with white (which may be utilized for FCCLA cords); red, Gold, and black; and red, white, and blue graduation cords. Well-known colors that are frequently connected with the splendid red honor cords are Gold, Royal Blue, White, Silver, and Black honor cords.

The most regular Honor Society that arranges our red honor cords is the Spanish National Honor Society. They have two choices to place only a solitary red cord or twofold that red cord with a gold or yellow graduation cord to coordinate the Spanish Flag colors. Other Honor Societies utilize red honor cords. You might need to combine our red cords with blue and white for military assistance.

A red honor cord represents mental fortitude, strength, and want. Red stands apart over the colors with its dynamic and ground-breaking show of bold attributes. The color red is an incredible image of the penance, assurance, and resolution given to arrive at one's objectives. You make sure to appreciate red graduation cords from Stoles and will likewise be glad to get them rapidly. We transport the more significant part of our orders out around the same time, and with our quick transportation, we'll get your request dispatched the very day it is ordered, regardless of the size.
You've just added this product to the cart:
Red Graduation Honor Cord - High School Graduation Cords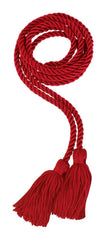 View cart
Continue Shopping
Size Chart Table
Size
39
42
45
45XL
48
48XL
51
54
54XL
57
57XL
60
63
63XL
66
Height
4'6" - 4'8"
4'9" - 4'11"
5'0" - 5'2"
5'0" - 5'2"
5'3" - 5'5"
5'3" - 5'5"
5'6" - 5'8"
5'9" - 5'11"
5'9" - 5'11"
6'0" - 6'2"
6'0" - 6'2"
6'3" - 6'5"
6'6" - 6'8"
6'6" - 6'8"
6'9" - 6'11"
Height(cm)
137 - 142 cm
145 - 150 cm
152 - 157 cm
152 - 157 cm
160 - 165 cm
160 - 165 cm
168 - 173 cm
175 - 180 cm
175 - 180 cm
183 - 188 cm
183 - 188 cm
191 - 196 cm
198 - 203 cm
198 - 203 cm
206 - 211 cm
Weight Below
180lbs
180lbs
180lbs
180lbs
180lbs
180lbs
270lbs
270lbs
270lbs
270lbs
270lbs
330lbs
330lbs
330lbs
330lbs