Constructed of sturdy twisted material
Thick purple colored cord
68" in length from end to end
Large 4" bulb tassels at each end
Secure knotted ends
This Purple College Graduation Honor Cord is the ideal item for honor recognition for your high school graduation
Each Purple College or High School Graduation Honor Cord is individually packaged in its own poly bag



Purple Graduation Cords

These are a fantastic method to recognize your accomplishments in the scholarly community. There are numerous tones of Purple, and a purple cord is nearest to a Royal Purple.

Notwithstanding donning purple to represent school colors or accomplishments in a club or society, Purple is regularly used to separate secondary school authorities like the President of a College or University, Deans, Faculty Heads. So forth Purple is worn, regularly a royal purple, by these high positioning authorities in their stuff, regardless of what they initially graduated in.

Purple as a color regularly is representative of royalty and therefore has an exceptionally stately air to it. In scholastic terms, purple likewise regularly means godliness, which is why numerous strict schools, theological schools, and philosophical clubs and social orders have purple as their color or one of their color and once in a while utilize purple honor cords.
You've just added this product to the cart:
Purple Graduation Honor Cord - High School Graduation Cords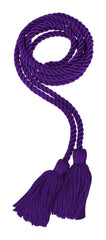 View cart
Continue Shopping
Size Chart Table
Size
39
42
45
45XL
48
48XL
51
54
54XL
57
57XL
60
63
63XL
66
Height
4'6" - 4'8"
4'9" - 4'11"
5'0" - 5'2"
5'0" - 5'2"
5'3" - 5'5"
5'3" - 5'5"
5'6" - 5'8"
5'9" - 5'11"
5'9" - 5'11"
6'0" - 6'2"
6'0" - 6'2"
6'3" - 6'5"
6'6" - 6'8"
6'6" - 6'8"
6'9" - 6'11"
Height(cm)
137 - 142 cm
145 - 150 cm
152 - 157 cm
152 - 157 cm
160 - 165 cm
160 - 165 cm
168 - 173 cm
175 - 180 cm
175 - 180 cm
183 - 188 cm
183 - 188 cm
191 - 196 cm
198 - 203 cm
198 - 203 cm
206 - 211 cm
Weight Below
180lbs
180lbs
180lbs
180lbs
180lbs
180lbs
270lbs
270lbs
270lbs
270lbs
270lbs
330lbs
330lbs
330lbs
330lbs