Constructed of sturdy twisted material
Thick pink colored cord
68" in length from end to end
Large 4" bulb tassels at each end
Secure knotted ends
This Pink Graduation Honor Cord is the ideal item for honor recognition for your college and high school graduation
Pink Graduation Cords
Pink graduation cords can add a subtle hint of excellence to the respectful idea of the graduation service. Our tough, pink graduation cords are produced using all engineered materials, guaranteeing that they will last, not just through the chaotic day of the function, yet for a very long time to come. Your graduate will esteem the pink honor cords that set them apart for their literary greatness, and the straightforwardness of the pink ropes will move inventiveness and uniqueness for the remainder of your understudy's enlightening experience.
Pink honor cord may likewise address scholastic honors in medication, math, and science. Pink graduation ropes are additionally utilized by a few academic honor social orders, including the Music Honor Society. Pink is one of the first tones remembered for the scholastic dress standard custom. The pink graduation cords we give can bring a feeling of honor and verifiable association, notwithstanding pride and accomplishment, to your graduation works out. Recognize your understudies' specific gifts with our pink honor cords, and urge them to keep building up their imagination as they push ahead in their educational excursion.
Pink graduation ropes look exquisite against White or black robes; however can likewise be effectively paired with greens, yellows, and blues. Blend and match our pink honor cords with any of our different colors, like emerald green, forest green, greenish-blue, or brown graduation ropes to give extraordinary honors to understudies or show school soul graduation. Regardless of whether you are an instructor, a school head, or the glad parent of a graduate, you have helped your understudies build up their inventiveness. With our pink graduation cords, you can recognize their development and improvement and praise them for their prosperity.
You've just added this product to the cart:
Pink Graduation Honor Cord - High School & College Honor Cords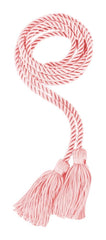 View cart
Continue Shopping
Size Chart Table
Size
39
42
45
45XL
48
48XL
51
54
54XL
57
57XL
60
63
63XL
66
Height
4'6" - 4'8"
4'9" - 4'11"
5'0" - 5'2"
5'0" - 5'2"
5'3" - 5'5"
5'3" - 5'5"
5'6" - 5'8"
5'9" - 5'11"
5'9" - 5'11"
6'0" - 6'2"
6'0" - 6'2"
6'3" - 6'5"
6'6" - 6'8"
6'6" - 6'8"
6'9" - 6'11"
Height(cm)
137 - 142 cm
145 - 150 cm
152 - 157 cm
152 - 157 cm
160 - 165 cm
160 - 165 cm
168 - 173 cm
175 - 180 cm
175 - 180 cm
183 - 188 cm
183 - 188 cm
191 - 196 cm
198 - 203 cm
198 - 203 cm
206 - 211 cm
Weight Below
180lbs
180lbs
180lbs
180lbs
180lbs
180lbs
270lbs
270lbs
270lbs
270lbs
270lbs
330lbs
330lbs
330lbs
330lbs