Constructed of sturdy twisted material
Thick navy blue colored cord
68" in length from end to end
Large 4" bulb tassels at each end
Secure knotted ends
This Navy Blue College & High School Graduation Honor Cord is the ideal item for honor recognition for your college graduation



Navy Blue Graduation Cords


Navy Blue Graduation Cords are one of the numerous great cords included by Graduation Attire. Navy Blue is a shade of blue that is a dim blue. It is more obscure than Royal Blue, which is, even more, a brilliant and gleaming blue. Our Navy Blue Honor Cords are produced using excellent Rayon and highlight Navy Blue tufts at the two closures.

The graduation cords are 70 creeps long (62 crawls of contorted rayon rope and eight creeps of decoration, four on each end). The Cords are produced using turning three strands of Rayon-colored light blue (navy blue) around one another to make the fundamental rope. With the tufts on each end, it turns into an honor cord, ideal for wearing at graduation.

The explanation that dull blue is called Navy Blue stems from the British Royal Navy. Officials in the British Navy wore dim blue and white and had since 1748. From that point forward, numerous naval forces from around the planet have received the faint shading blue in their uniform. Thus it has come to be known as navy blue.

The shades of the US Naval Academy in Annapolis, Maryland, are Navy Blue and Gold. The United States Naval Academy (USNA or Navy) was established in 1845 and is, notwithstanding a help foundation, a notable public milestone. The mascot of the Navy and its games groups is Bill the Goat. One doesn't, for the most part, discover a goat adrift, anyway in former times, goats were kept on boats for the reasons for being waste disposal and for milk, cheddar, and meat.

If you are searching for a twofold tied honor cord, various tones look great with Navy Blue. Navy Blue and White look incredible together as graduation cords. Other excellent shading mixes are Navy Blue, and Red and Navy Blue and Gold tied as honor cords. Antique Gold likewise looks phenomenal when attached with Navy Blue.This graduation cords would be a replacement for the Psi Chi cords, that guarantee "dull blue and platinum" as their shadings, or in blend with Maroon and White to address enrollment in HOSA.
You've just added this product to the cart:
Navy Blue Graduation Honor Cords - High School Graduation Cords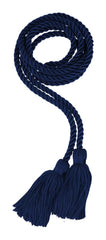 View cart
Continue Shopping
Size Chart Table
Size
39
42
45
45XL
48
48XL
51
54
54XL
57
57XL
60
63
63XL
66
Height
4'6" - 4'8"
4'9" - 4'11"
5'0" - 5'2"
5'0" - 5'2"
5'3" - 5'5"
5'3" - 5'5"
5'6" - 5'8"
5'9" - 5'11"
5'9" - 5'11"
6'0" - 6'2"
6'0" - 6'2"
6'3" - 6'5"
6'6" - 6'8"
6'6" - 6'8"
6'9" - 6'11"
Height(cm)
137 - 142 cm
145 - 150 cm
152 - 157 cm
152 - 157 cm
160 - 165 cm
160 - 165 cm
168 - 173 cm
175 - 180 cm
175 - 180 cm
183 - 188 cm
183 - 188 cm
191 - 196 cm
198 - 203 cm
198 - 203 cm
206 - 211 cm
Weight Below
180lbs
180lbs
180lbs
180lbs
180lbs
180lbs
270lbs
270lbs
270lbs
270lbs
270lbs
330lbs
330lbs
330lbs
330lbs