Constructed of sturdy twisted material
Thick light blue colored cord
68" in length from end to end
Large 4" bulb tassels at each end
Secure knotted ends
This Light Blue Graduation Honor Cord is the ideal item for honor recognition for your college graduation



Light Blue Graduation Cords


Light Blue Graduation Cords are one of our more well-known items. The shade of blue is alluring and is like a sky blue or infant blue. You may consider utilizing light blue honor cords for understudies who have acquired their Eagle scout honors, mainly if royal blue or red, white, and blue cords are being used by one more gathering at your beginning service. Light blue honor cords would likewise be a decent decision if blue is one of your school tones and you have understudies who have acquired their International Baccalaureate. You make sure to be mainstream with this top-notch Graduation Honor Cord.

Light Blue is highlighted in the Honor Cords of more than one honor society. Moonlight blue is a light blue. The correspondence honor society's tones are light blue and gold. Also, the country's most established honor society has graduation cords of light blue and pink.

Notwithstanding honor social orders, a few sororities utilize light blue too. A sorority that began in 1943 at the Lewis Business College has the shades of child pink and infant blue, a light blue, and others, which guarantee "sky blue" as one of their cord tones, could likewise be addressed by a light blue honor cord. Light blue could be a suitable replacement for greenish-blue cables too. Yet, it's not just social orders and sororities that utilization light blue; schools do too. For instance, Grand Valley State University in Michigan has shades of light blue, white, and black. These are colors that we don't convey together. However, they would make an incredible triple cord. The University of Great Falls in Montana has sky blue and reap Gold as shades of theirs.

There are four primary sorts of light blue. Periwinkle, Powder Blue, Light Blue, and Baby Blue. Our light blue honor cord can be utilized for any of the last three. However, it is not even close to the shade of periwinkle. It is nearest (obviously) to light blue, child blue, and afterward powder blue.
You've just added this product to the cart:
Light Blue Graduation Honor Cord - High School Graduation Cords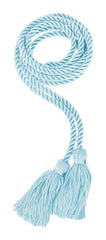 View cart
Continue Shopping
Size Chart Table
Size
39
42
45
45XL
48
48XL
51
54
54XL
57
57XL
60
63
63XL
66
Height
4'6" - 4'8"
4'9" - 4'11"
5'0" - 5'2"
5'0" - 5'2"
5'3" - 5'5"
5'3" - 5'5"
5'6" - 5'8"
5'9" - 5'11"
5'9" - 5'11"
6'0" - 6'2"
6'0" - 6'2"
6'3" - 6'5"
6'6" - 6'8"
6'6" - 6'8"
6'9" - 6'11"
Height(cm)
137 - 142 cm
145 - 150 cm
152 - 157 cm
152 - 157 cm
160 - 165 cm
160 - 165 cm
168 - 173 cm
175 - 180 cm
175 - 180 cm
183 - 188 cm
183 - 188 cm
191 - 196 cm
198 - 203 cm
198 - 203 cm
206 - 211 cm
Weight Below
180lbs
180lbs
180lbs
180lbs
180lbs
180lbs
270lbs
270lbs
270lbs
270lbs
270lbs
330lbs
330lbs
330lbs
330lbs