Constructed of sturdy twisted material
Thick hunter colored cord
68" in length from end to end
Large 4" bulb tassels at each end
Secure knotted ends
This Hunter College and High School Graduation Honor Cord is the ideal item for honor recognition for your college graduation
Forest Green Graduation Cords & Hunter Green Honor Cords

Hunter green graduation cords offer an inclination expectation and obligation to your graduates at their commencement works out. Our hunter green honor cords are produced using all manufactured material, making them sufficiently solid to last for graduation, also for the years to come. This Forest green graduation cords may fill in as a little keepsake of achievement yet also of energy for the future for your graduates as they go into the following period of their lives.
The hunter green honor cord addresses consistent and submitted dedication to educational advancement. Even though frequently used to recognize understudies' accomplishments who dominate in the natural or actual sciences, our forest green graduation cords might be utilized to indicate a specific achievement your graduates may have accomplished. Hunter green graduation ropes are being used by a few esteemed scholastic honor social orders to connote participation and greatness in the separate gatherings. These social orders hold a custom of honor and regard. By remembering your graduates for that custom, you offer them openings and motivation to proceed in their obligation to progress.
Hunter green graduation cords will fly against a white graduation robe or an inconspicuous trace of shading against the conventional black. Graduates may likewise need to coordinate their forest green honor cords with one of our different tones, for example, consumed orange graduation cords or purple cords, for the graduation outfit which arranges with school tones, or as the school, Student Council honor cord Matching this forest green graduation with another technique may likewise demonstrate that an understudy has been granted numerous honors for your commencement service. Urge your understudies to proceed in expectation and devotion as they start the next bit of their instructive excursion, and offer them the long-standing practice of the forest green graduation cord to move them for the duration of their lives.
You've just added this product to the cart:
Hunter Green Honor Cord - Forest Green Graduation Cords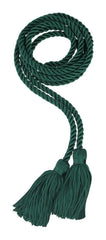 View cart
Continue Shopping
Size Chart Table
Size
39
42
45
45XL
48
48XL
51
54
54XL
57
57XL
60
63
63XL
66
Height
4'6" - 4'8"
4'9" - 4'11"
5'0" - 5'2"
5'0" - 5'2"
5'3" - 5'5"
5'3" - 5'5"
5'6" - 5'8"
5'9" - 5'11"
5'9" - 5'11"
6'0" - 6'2"
6'0" - 6'2"
6'3" - 6'5"
6'6" - 6'8"
6'6" - 6'8"
6'9" - 6'11"
Height(cm)
137 - 142 cm
145 - 150 cm
152 - 157 cm
152 - 157 cm
160 - 165 cm
160 - 165 cm
168 - 173 cm
175 - 180 cm
175 - 180 cm
183 - 188 cm
183 - 188 cm
191 - 196 cm
198 - 203 cm
198 - 203 cm
206 - 211 cm
Weight Below
180lbs
180lbs
180lbs
180lbs
180lbs
180lbs
270lbs
270lbs
270lbs
270lbs
270lbs
330lbs
330lbs
330lbs
330lbs