Constructed of sturdy twisted material
Thick gold colored cord
68" in length from end to end
Large 4" bulb tassels at each end
Secure knotted ends
This Gold Graduation Honor Cord is the ideal item for honor recognition for your college and high school graduation



Gold Graduation Cords

Gold graduation cords are an amazingly appealing choice that is well known with graduates all through the United States and even universally, paying little mind to the school, major, or gathering from which or through which understudies are graduating. Gold cords are now and again utilized either because they coordinate school tones, or to indicate understudies who have accomplished specific honors regarding a base GPA (grade point normal), frequently alone or along with silver honor cords.

We have an assortment of shadings accessible, in-stock, and all set inside the gold range. Most orders can be filled and transported the very day that your request comes through. Accessible gold cord tones incorporate Gold (brilliant Gold), Antique Gold (old Gold), and (yellow Gold).

Gold honor cords relate to the web, shading Gold or Golden, and remain our most requested cord tone to date. This is the tone frequently utilized by the Spanish National Honor Society and the FFA. It can likewise be used to honor understudies who have gotten their Who grant, or in any event, for individuals from certain sororities.

Antique Gold graduation cords have a paler, matured tone. The standard Gold has just about an orange or rosy style; Antique Gold cords have right around a green quality.

Old Gold is another alternative that we convey, additionally now and again recorded as Bronze. It has a lot hazier, more extravagant tone. Generally alluded to as Old Gold at numerous schools and associations, the Bronze cord has a brownish color to it, a lot more obscure than any of the other gold alternatives.

Yellow graduation cords are a splendid, energetic yellow tone. A considerable lot of our clients who are looking for gold cords are looking for yellow Cords. On the off chance that you need a yellow-gold cable, these are the cords for you.

Gold is fundamental as a school tone, with schools like the University of California, the University of Colorado, and the place of Gryffindor having Gold as one of their authority tones. There are likewise a few notable honor social orders that use Gold as one of their techniques.

Public Honor Society graduates will frequently wear a solitary golden cord, a twofold golden cord, or one gold cord. One royal blue line integrated their graduation to demonstrate that they are graduating with NHS honors. A few other renowned honor social orders utilize the gold cord to compensate their individuals, similar to the Future Business Leaders of America and the FFA. We additionally have a couple of honor cord alternatives that include a gold cord interlaced with another tone, similar to our Gold with royal blue honor cords.
You've just added this product to the cart:
Gold Honor Cord - High School Graduation Cords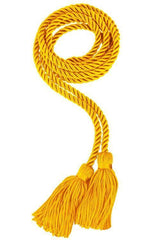 View cart
Continue Shopping
Size Chart Table
Size
39
42
45
45XL
48
48XL
51
54
54XL
57
57XL
60
63
63XL
66
Height
4'6" - 4'8"
4'9" - 4'11"
5'0" - 5'2"
5'0" - 5'2"
5'3" - 5'5"
5'3" - 5'5"
5'6" - 5'8"
5'9" - 5'11"
5'9" - 5'11"
6'0" - 6'2"
6'0" - 6'2"
6'3" - 6'5"
6'6" - 6'8"
6'6" - 6'8"
6'9" - 6'11"
Height(cm)
137 - 142 cm
145 - 150 cm
152 - 157 cm
152 - 157 cm
160 - 165 cm
160 - 165 cm
168 - 173 cm
175 - 180 cm
175 - 180 cm
183 - 188 cm
183 - 188 cm
191 - 196 cm
198 - 203 cm
198 - 203 cm
206 - 211 cm
Weight Below
180lbs
180lbs
180lbs
180lbs
180lbs
180lbs
270lbs
270lbs
270lbs
270lbs
270lbs
330lbs
330lbs
330lbs
330lbs