Constructed of sturdy twisted material
Thick gold colored cord
68? in length from end to end
Large 4" bulb tassels at each end
Secure knotted ends
This Apricot & Orange College & High School Honor Cord is the ideal item for honor recognition for your graduation



Orange Graduation Cords

Orange graduation cords also known as apricot honor cords to any services function shall bring a feeling of freedom and inventiveness to these graduates. With orange honor cords, designed from every engineered material, the graduate shall feel sure about their novel scholastic encounters. These sturdy orange graduation ropes will effectively last through the pressure of graduation day and for years to come, leaving you and your understudies to zero in on the more significant parts of this second in their scholarly vocations. Let our orange graduation cords be the final detail on a generally mind-blowing average day for your understudies.

This orange honor cord addresses independence and also strength for the graduating class as they leave on their next experience in the scholarly world and throughout everyday life. Even though life may take them to strange places, your understudies will be fastened to the commonality of their instructive encounters. Through the orange graduation cord, your understudies are perceived as uncommon, novel, and prepared to confront the following period of their background. In the scholarly world, orange is frequently connected with specific academic achievement in designing and is utilized by one of the oldest literary social orders in America. You might need to use our orange honor cords to grant understudies who have procured an International Baccalaureate cord, primarily if the conventional blue IB cord tone is being utilized by one more scholastic gathering at your commencement services. Orange additionally makes an extraordinary shading honor cord for understudies at their self-teach graduation. With this rich legacy of academic honesty and greatness, your understudies can feel an association with the practice of academic honor into which they have now become a section by wearing their orange honor cords.

Our orange honor cords will stand apart at your graduation service with their deep and brilliant shade. They can undoubtedly be paired with our black, Navy, or royal blue Cords and look fantastic on robes in any of these shades. For a more detailed graduation look, have a go at blending our orange cords with Maroon, red, or yellow. Anyway, you decide to utilize our orange honor cords, your understudies will look proficient and feel prepared to go into the following piece of their enlightening experience.
You've just added this product to the cart:
Orange/Apricot Honor Cord - College & High School Honor Cords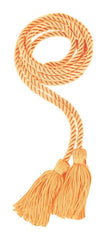 View cart
Continue Shopping
Size Chart Table
Size
39
42
45
45XL
48
48XL
51
54
54XL
57
57XL
60
63
63XL
66
Height
4'6" - 4'8"
4'9" - 4'11"
5'0" - 5'2"
5'0" - 5'2"
5'3" - 5'5"
5'3" - 5'5"
5'6" - 5'8"
5'9" - 5'11"
5'9" - 5'11"
6'0" - 6'2"
6'0" - 6'2"
6'3" - 6'5"
6'6" - 6'8"
6'6" - 6'8"
6'9" - 6'11"
Height(cm)
137 - 142 cm
145 - 150 cm
152 - 157 cm
152 - 157 cm
160 - 165 cm
160 - 165 cm
168 - 173 cm
175 - 180 cm
175 - 180 cm
183 - 188 cm
183 - 188 cm
191 - 196 cm
198 - 203 cm
198 - 203 cm
206 - 211 cm
Weight Below
180lbs
180lbs
180lbs
180lbs
180lbs
180lbs
270lbs
270lbs
270lbs
270lbs
270lbs
330lbs
330lbs
330lbs
330lbs