Constructed of sturdy twisted material
Thick antique gold colored cord
68" in length from end to end
Large 4" bulb tassels at each end
Secure knotted ends
This Antique Gold Graduation Honor Cord is the ideal item for honor recognition for your college or high school graduation



Antique Gold Graduation Cords

Antique Gold Graduation Cords from Graduation Attire are the ideal things to coordinate with covers and outfits on graduation day to address your club, honor society, organization, sorority, or school tones. Produced using wonderfully woven rayon materials, these Bronze Graduation Cords are precisely the thing you are searching for. Old Gold and Bronze are similar, and both are very much addressed in this honor cord.

Antique Gold as a tone is a hazier shade of Gold than brilliant Gold or yellow Gold. It gives the presence of Gold that has been matured, thus the name "old gold." Old Gold is generally utilized in Academia, both to address educational gatherings and for school sports groups. Bronze, or Old Gold, is a school shade of Texas State University, Purdue University, Georgia Institute of Technology (Georgia Tech), University of Central Florida, and Wake Forest University. Incredibly near Old Gold in Vegas Gold. Schools with Vegas Gold are Vanderbilt and the University of South Florida. Old Gold and Vegas Gold are so near one another that either could be precisely addressed by the Bronze Graduation Cords.



You've just added this product to the cart:
Antique Gold Graduation Honor Cord - College & High School Graduation Cords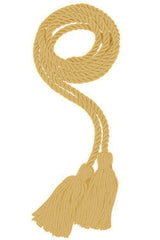 View cart
Continue Shopping
Size Chart Table
Size
39
42
45
45XL
48
48XL
51
54
54XL
57
57XL
60
63
63XL
66
Height
4'6" - 4'8"
4'9" - 4'11"
5'0" - 5'2"
5'0" - 5'2"
5'3" - 5'5"
5'3" - 5'5"
5'6" - 5'8"
5'9" - 5'11"
5'9" - 5'11"
6'0" - 6'2"
6'0" - 6'2"
6'3" - 6'5"
6'6" - 6'8"
6'6" - 6'8"
6'9" - 6'11"
Height(cm)
137 - 142 cm
145 - 150 cm
152 - 157 cm
152 - 157 cm
160 - 165 cm
160 - 165 cm
168 - 173 cm
175 - 180 cm
175 - 180 cm
183 - 188 cm
183 - 188 cm
191 - 196 cm
198 - 203 cm
198 - 203 cm
206 - 211 cm
Weight Below
180lbs
180lbs
180lbs
180lbs
180lbs
180lbs
270lbs
270lbs
270lbs
270lbs
270lbs
330lbs
330lbs
330lbs
330lbs